Hogan Returns To Some Phase 2 Restrictions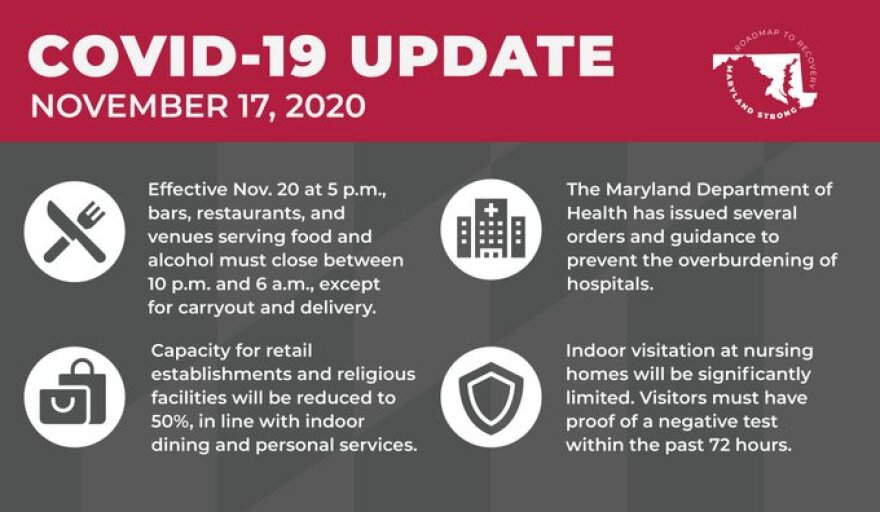 With COVID-19 cases spiking in Maryland, Governor Larry Hogan announced Tuesday new restrictions on hospitals, nursing homes, restaurants and bars.
In an afternoon news conference, Hogan said the state health department has limited visitors in hospitals and nursing homes to those involved in "compassionate care."
Parents or guardians of minors and those supporting disabled patients would also be allowed in hospitals.
But as hospitals throughout the state are reaching capacity, he urged doctors to avoid admitting patients for elective procedures.
"We do not want Marylanders to put off live saving treatments or surgeries," he said. "But our highest priority right now is preserving capacity at our hospitals so that our doctors and nurses can do their jobs and make sure that people get the right, critical, life-saving treatment"
He said he realizes the restrictions on visitors at nursing homes are especially difficult during the holiday season, but he added, "by refraining from visits at this time you are helping to keep them safe and save the lives of our most vulnerable."
In addition, the surge in patients has some hospitals in Western Maryland already operating at capacity and Hogan said the state would institute a plan to move patients among hospitals if necessary.
Dr. Thomas Scalea, the physician in chief at the University of Maryland Medical System's Shock Trauma Center, said that may mean ""This may mean transferring a patient with COVID to another hospital."
"But it may mean having a person in your emergency department that's COVID positive that's appropriate to stay there and then transferring a COVID negative patient to a different hospital to make room for the COVID positive patient," he added.
He said it's about getting the right patient to the right place in the right amount of time to get the right level of care.
"It's exactly what all of us in health care train to do and I speak for my entire professions when I say we stand ready for whatever lies in the future."
Hogan also announced that any place that serves food and alcohol will have to close at 10 p.m. He said contact tracing has shown an upsurge in COVID-19 cases among people who frequent bars and restaurants and especially those who stay late.
"This action was made in consultation with our coronavirus recovery task force and representatives of the industry, based on increasing reports that compliance with public health protocols drops dramatically later in the evening," he said.
And he renewed his plea for Marylanders to wear masks, calling it the "single best mitigation strategy that we have to fight the virus."
"This is not a political issue," he insisted. "It's not a limitation on your right to infect other people. But it is the best way to keep you and your family members safe, keep people out of the hospital and save lives."
Hogan warned that if Marylanders fail to take the virus seriously their state will look like many others where case rates are above 20 per 100,000 residents and positivity rates top 10%.
And he railed against "all the disinformation that's being spread all over social media."
"This is not the flu. It's not fake news," he said. "It's not going to magically disappear just because we're all tired of it and we want our normal lives back. We are in a war and the virus is winning now more than ever."
He said he was pleading with people of the state to battle this surging virus a little longer because "your family and friends are counting on you, your neighbors are counting on you and your fellow Marylanders are counting on you."