Gov. Hogan Enacts Emergency Legislation To Expand Telehealth Care, Orders More Financial Relief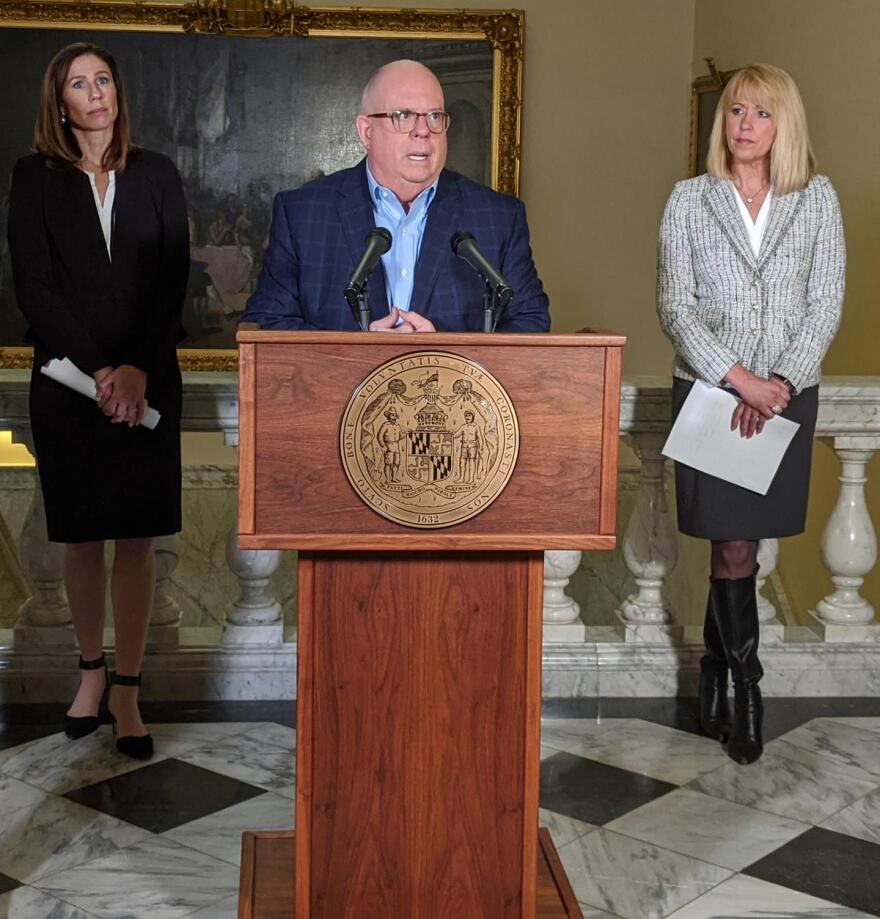 Gov. Larry Hogan signed two pieces of emergency legislation on Friday to expand telehealth across the state, which will allow Marylanders to receive care and evaluations from their providers by e-mail, telephone, or video.
The Republican also signed an executive order to designate carers for people with disabilities as essential personnel, a move that allows them to receive free childcare during the novel coronavirus pandemic.
In addition, he issued an emergency order to provide additional and immediate financial relief for those facing economic hardship because of the pandemic.
The order prohibits mortgage lenders from beginning the foreclosure process. Almost 70 of Maryland's banks and financial institutions have agreed to a program to provide a 90-day period of forebearance and deferral on mortgages, Hogan's spokeswoman Kate Hall said.
During this 90-day period, banks will not be able to charge late fees, nor can they issue negative reports to credit bureaus.
"You must contact your financial services provider to take advantage of this relief," Hall said in a tweet.
The order also prohibits commercial and industrial evictions, expanding upon a previous order that banned residential evictions. It also bans the repossession of cars, trucks and mobile homes.
Hogan also directed the Maryland Commissioner of Financial Regulation to suspend certain lending limits for banks on a case-by-case basis, in order to make more credit available for small businesses.
Finally, state executive agencies will suspend all debt collection until the ongoing state of emergency is lifted.
The governor announced the measures during a Friday afternoon news conference, in which he also provided updates on the spread of the virus and reiterated the importance of staying the course of social distancing.
There was an 18 percent jump in the total number of confirmed coronavirus cases in Maryland from Thursday to Friday, Hogan said. There have been 42 deaths in the state so far.
"I wish that I could tell you when we're going to turn the corner," Hogan said. "We simply don't know just how bad things are going to get, or exactly how long this is going to last."
The governor said that the Maryland Department of Corrections has reported 17 cases within Maryland's prisons, including inmates and correctional officers.
The department has responded by cancelling all visitation and volunteer services, and will also provide privatized health care for inmates. Sick inmates will be separated from the general population and employees entering corrections facilities will have their temperatures taken,
The governor said that there are cases and/or clusters of cases at 60 nursing homes and long-term care facilities throughout the state.
Fran Phillips, the deputy secretary of the Maryland Department of Health, issued several recommendations for nursing homes during the news conference.
She said that there is "clear evidence" that asymptomatic nursing home staffers have spread the virus; she directed all workers at care facilities to wear face masks and reiterated that the virus does not discriminate when it comes to age.
"Many people under the age of 50 are infected with what I call the sneaky virus," she said. "It is very important that people of all ages obey social distancing."