Why the 1st District council race is a real contest
Republicans believe they can achieve something for the first time since the 1940s; elect a member of their party to the Baltimore City Council.
It started when Republican Larry Hogan took the city's first councilmanic district on the way to Government House (the governor's residence) two years ago. The GOP began thinking they might be able to break the Democrats' stranglehold on City Hall.
Matt McDaniel emerged from the April primary as the nominee taking on Democrat Zeke Cohen.
"This is one of those days when you can swing for the fences," he said. "That is the greatest thing about running as a Republican in the city; and running as a non-Democrat in the city."
The seat in the district - that stretches east from the Inner Harbor to the city line – became open when Councilman Jim Kraft decided not to run for re-election.
When people talk about the district, they usually focus on the boom around the waterfront and the hottest neighborhoods in the city like Canton, Fells Point, Harbor East and Patterson Park.
But the district is also home to O'Donnell Heights, a neighborhood with public housing on the far eastern edge of the city.
Cohen, a former teacher who runs a non-profit student leader program – The Intersection—said, "It's wonderful to see the amount of growth that we've had in some of our neighborhoods in Southeast Baltimore, but people don't think about O'Donnell Heights."
"They don't think about Graceland Park or Broening Highway or St. Helena or Dundalk," he added.
Part of Cohen's platform is to make sure neighborhoods like O'Donnell Heights are treated the same as their more attractive counterparts.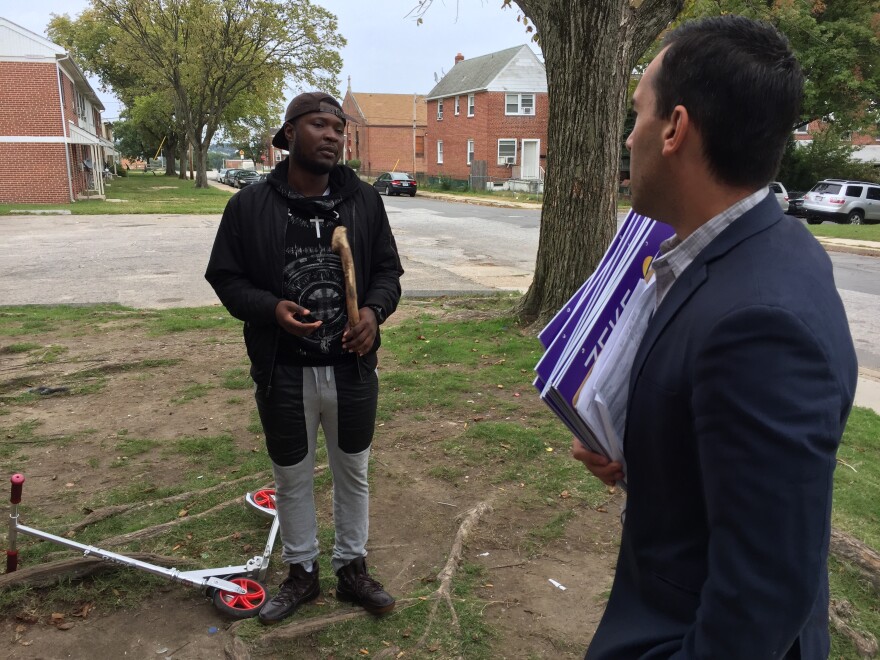 "We need to be concerned about the lives of all of our citizens and we need to see ourselves as interconnected," he said. "We need to care about people living in O'Donnell Heights as much as we care about the people living in Canton."
McDaniel also says the eastern part of the district should not be ignored. He suggests Baltimore is not "a tale of two cities" but a city in transition. And adds economic issues cut across neighborhood lines.
"There are parts of the city where we've priced people completely out of ownership through taxes," he said. "Through bottle taxes, bag taxes, rain taxes; the water bill going up. It's like you don't want people to own; you don't want people to succeed."
He adds that prosperity should not be limited to the waterfront neighborhoods; but pushed out to the rest of the city.
McDaniel has Hogan's endorsement, which suggests he just might be able to pull off a win here.
But Mileah Kromer, director of the Sarah T. Hughes Field Politics Center at Goucher College, says McDaniel has an uphill battle.
"In 2014, you had certainly a surge throughout the state of wanting something different; with the idea of Change Maryland," she said. "But right now, what we have is I think is a hard throwback to partisan politics."
She also says that McDaniel has a problem with Donald Trump being his party's presidential nominee.
McDaniel has said Trump "hasn't endorsed me; I haven't endorsed him. People can vote their conscience." But Kromer says that's not enough.
"Democrats in this state want to see a disavowment of Trump's comments, particularly in the last few weeks," she said.
Kromer adds that if elected, McDaniel could bring a different perspective to the council and have a governing style similar to Hogan.
However, she adds it will be hard for him – and other Republicans - to escape the comparisons – real or perceived - to Trump.