Maryland's Budget, Transgender Protections, Medical Marijuana, and The Minimum Wage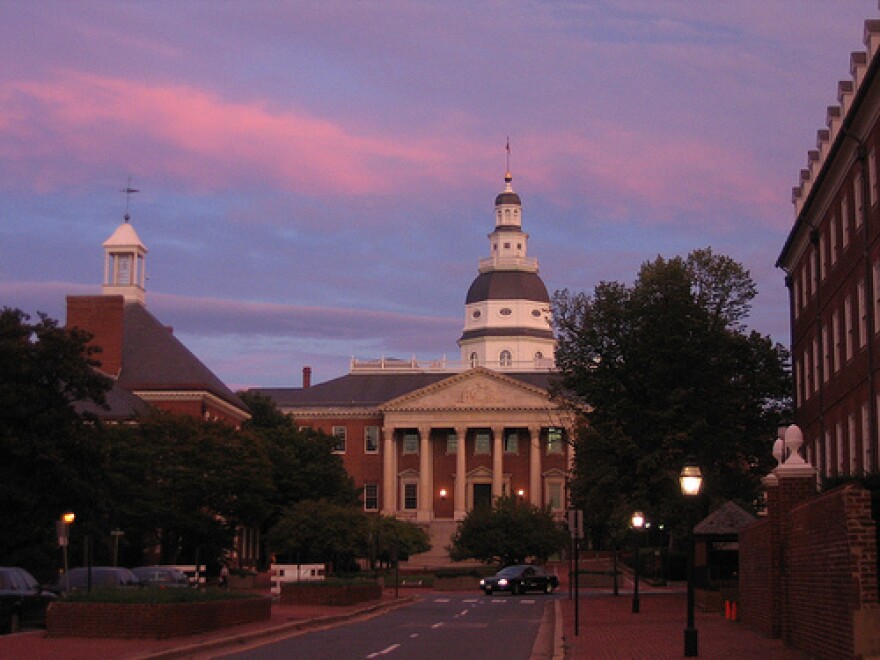 Our Friday headlines round up General Assembly happenings, including votes on the state's budget, transgender protections, medical marijuana, the minimum wage, income tax refunds for people with outstanding warrants, and more. Plus: Henson appeals, Leopold "weighs options," the State Center project's back on, and a new contract for Baltimore County police.
Maryland's Budget: The House of Delegates has signed off on a $38.7 billion budget plan for the coming fiscal year, following the State Senate's approval of a similar measure earlier this month. The Gazette notes that both bills fill a budget gap by reducing the planned supplemental payments into Maryland's pension fund. The measures now go to conference committee; the House and Senate have to agree on a final budget before this year's General Assembly session ends, on April 7th. One major difference is an amendment added to the House bill yesterday, that would let the state use eminent domain powers to seize the property of the company that produces the Netflix series "House of Cards," – should that company stop production in Maryland. It's unclear whether that provision would survive the conference committee. The budget also provides more than $18 million in tax credits for movie and TV production companies There's more here from the Annapolis Capital and here from the Daily Record.
General Assembly Passes Transgender Protections: A bill that bans discrimination on the basis of gender identity cleared the General Assembly yesterday. WYPR's Christopher Connelly was in the House of Delegates for the final vote – and the very long and very passionate debate that preceded it.
Minimum Wage Deal In The Works: WYPR's Fraser Smith gets an update on the governor's minimum wage bill (and related deal-making) from state house reporter Christopher Connelly. It's this morning's edition of Inside Maryland Politics.
Medical Marijuana: A bill that would revise Maryland's medical marijuana law is headed to conference committee, after the State Senate yesterday passed a bill that's significantly different from a measure that earlier passed the House of Delegates. Both measures would allow certain doctors to essentially prescribe the drug to their patients. But while the House bill limits the number of marijuana distributors to ten, the Senate bill allows an unlimited number of marijuana growers and at least 94 distributors statewide. If a medical marijuana bill is signed into law this year, it will replace last year's version, which failed when no state medical centers agreed to participate in a program in which only they could provide patients with the drug. There's more here from the Baltimore Sun and here from the Annapolis Capital.
Legislation Would Prevent Tax Refunds For People With Open Warrants: The State Senate yesterday voted to expand a program that withholds state income tax refunds to people who have open warrants. The program began in Anne Arundel County, where more than 400 letters went out to people with outstanding warrants saying they wouldn't get their refunds unless they turned themselves in; the Anne Arundel Sheriff's office says more than 75 percent of those who got the letters complied. The Senate bill expands the program to Baltimore City and Washington County. The Baltimore Sun notes that an identical bill has already won approval in the House.
Henson Files Appeal: Political consultant Julius Henson has appealed a judge's decision that he violated parole by filing to run for a seat in the State Senate. Henson was convicted of breaking campaign law in relation to a robocall that went out on election day in 2010; as part of his probation, he was ordered not to "work" on any political campaign. Now Henson is appealing, after the Court of Special Appeals struck down a provision in the sentence of former Anne Arundel County Executive John Leopold that barred him from running for office while he is on probation. Leopold was convicted last year for misconduct in office for using his police detail and other county employees to do personal and campaign tasks. The Court of Special Appeals upheld Leopold's conviction but, as WYPR's Kenneth Burns reports, ruled that the Board of Elections has the power to determine who is eligible to run for office. Henson wants on the court to reconsider his sentence in light of the Leopold ruling.
Leopold "Weighing All The Options: Meanwhile, former Anne Arundel County Executive John Leopold tells the Annapolis Capital that he's "weighing all the options" on a possible bid for elective office this year, now that he's allowed to run. The filing deadline for the 2014 elections has already passed, so Leopold would either have to run as a write-in candidate, or be appointed to a race by the Anne Arundel County Republican Central Committee – but that could only happen if a GOP candidate wins a primary election, and then opts out of the general election.
State Center Redevelopment Back On: Maryland's highest court is tossing out a lower court's decision that blocked the redevelopment of Midtown Baltimore's State Center. Opponents of the $1.5-billion project argued that it would have a negative impact on existing businesses, and last year, a Circuit Court judge put the project on hold, calling it in violation of state law. But the project is now back on. Yesterday, Maryland's Court of Appeals ruled plaintiffs waited too long to challenge the overhaul of state buildings in court. Mayor Stephanie Rawlings-Blake praised the ruling, telling the Baltimore Sun that the State Center project will "transform the area." There's more here from the Daily Record.
'Vehicles For Change' Definitely on a Roll: Vehicles for Change works to improve job prospects of low income families by linking them to an essential: transportation. Over the last 15 years, it has provided 5,000 vehicles. Now the organization is trying to give ex-offenders a marketable skill: detailing automobiles. WYPR's Fraser Smith reports.
New Contract For Baltimore Police: A new contract has been approved for the Baltimore County police union. Members of the Fraternal Order of Police Lodge No. 4 voted overwhelmingly in favor of the deal, which ensures that no union members will be furloughed or laid off through 2016. The contract also offers members a 3% bonus later this year, and a 3% cost of living raise next year. And it requires that require that new hires contribute more to their pensions. The Baltimore Sun has more.
University System of Maryland Enrollment Expected To Drop In The Short Term: Fewer students are expected to enroll in the University System of Maryland this fall. The system's Board of Regents unveiled its long-term enrollment projections yesterday; saying that, system-wide, enrollment is likely to drop about 1 percent in the coming year. But the Daily Record reports that enrollment is expected to go up in the coming years, rising nearly 12 percent by the year 2025. There's more here from the Baltimore Sun.
"Coolest Town" Party Postponed, Cornhole Competition Still On: A party to honor the Eastern Shore town of Berlin being named as "America's Coolest Small Town" by Budget Travel has been rescheduled because of the rain in the weekend forecast; the party was supposed to take place tomorrow; it's been moved to April 12th. But the Daily Times notes that the Berlin Fire Company's "cornhole tournament" is still on; it takes place tomorrow, starting at 11:30am.