Mayor Young Says He Won't Sign Gag Order Ban, Will Sign Water Accountability and Equity Act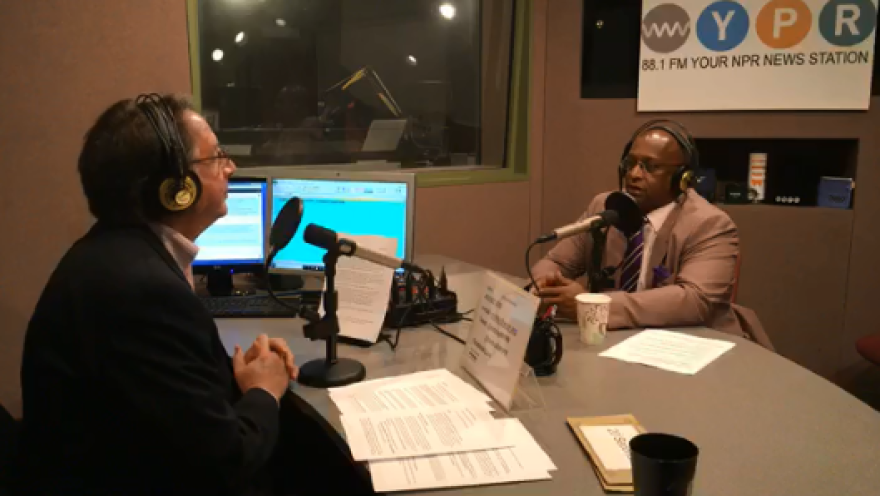 Mayor Jack Young said he plans to sign a bill that bolsters water bill affordability and transparency in the Department of Public works, but he will not sign a city council bill that bans gag orders in cases of police brutality and police discrimination.
During an appearance Wednesday on WYPR's Midday with Tom Hall, Young said that he intends to sign the Water Accountability and Equity Act, though he has not seen it since it has gone through a recent bout of amendments.
Democrat was the lead sponsor of the bill when it was first introduced early last year when he was city council president. It has been heavily amended since then and Young said he has not kept up with all the changes since the bill still needs a final vote from the council before it heads to his desk.
The bill, which has been the subject of water justice advocates' lobbying efforts for years, would create several tiered discount programs to make low income residents' water bills more affordable, as well as several oversight and appeals offices.
DPW Director Rudy Chow has argued that the bill would force his department to raise rates for non-low income customers to make up for proposed discount programs. According to a financial analysis from City Council President Brandon Scott's office, the bill's discount program would save $19 million over the next five years compared to DPW's current program, H2O Assist.
"I'm gonna sign it, but I do have some problems with it because it's not really what I was doing with it," the mayor said. "I'm hoping that the council do its due diligence and take in consideration some of the things I suggested."
The mayor pointed to a citywide audit he ordered of the water billing system following reports that the city's Ritz-Carlton had not gotten water bills for years.
"Somebody's gotta be held accountable for that," he said.
Young also spoke about the Transparency and Oversight in Claims and Litigation bill, which the council passed on its Oct. 28th meeting and is on his desk awaiting his signature.
The bill permanently bans the use of gag orders in the settlements of all police brutality and discrimination cases. It also requires the City Law Department to publicly post claims against Baltimore City regarding police misconduct and unlawful discrimination on its website twice a year.
"The Law Department says the bill is illegal so I can't sign the bill," he said.
Young did not say he would veto the bill, but if he refrains from signing it for more than three council meetings, it will automatically become law.
After the bill got the council's final approval, its lead sponsors, City Council President Brandon Scott and Councilwoman Shannon Sneed, held a press conference encouraging the mayor to sign it into law.
The mayor introduced his own executive order in September banning the use of gag orders in "unreasonable" city settlements. The order allows the city to determine what "unreasonable" means. That room for interpretation means the bill is a "complete sham that accomplishes precisely nothing," David Rocah, a senior staff attorney with the ACLU of Maryland told WYPR.
"I've been a proponent of people being able to speak," Young said on Midday. "I don't think nobody should have a gag order. I'm in the process of fixing that right now."
Hall asked the mayor if he was planning on fixing it through an executive order.
"I'm going to fix it. That's all I'm going to say," Young answered.
Councilwoman Sneed told WYPR she was glad to hear Young was committed to a fix but would rather him sign the legislation.
"The citizens of Baltimore City have worked with me to get this legislation done. They know it works," she said. "We feel like this legislation is the best course of action."
Council President Scott echoed Sneed.
"I made passing this law one of my priorities because no one who's experienced brutality or discrimination should be forced to stay silent as a term of their compensation," he said. "We need policy change through legislation, not an executive order. Mayors change and executive orders can be undone. We must make sure that gag orders aren't just banned for this term, but they're banned period."
Young, a former City Council President who became mayor after Catherine Pugh's resignation, officially declared a run for his current office earlier this month.
Listen to the mayor's entire interview here.
This article has been updated.