Merchants and customers adjust to renovated Lexington Market
1
of
5
— another view of long line at Blue Island Malaysian Cuisine 1.jpg
Customers at the front of the line at Blue Island Malaysian Cuisine inside Baltimore City's Lexington Market.
Wambui Kamau
2
of
5
— wide shot of LM.jpg
Outside of Lexington Market
Wambui Kamau
Mouthwatering banana pudding from Deddle's Donuts inside Baltimore City's Lexington Market.
Wambui Kamau
4
of
5
— Shantel Faulkner, owner Crowns of Nubia.jpg
Shantel Faulker has sold and repaired jewelry at Lexington Market for 17 years.
Wambui Kamau
5
of
5
— Crowns of Nubia jewelry display (1).jpg
Shantel Faulkner displays her handcrafted jewelry cart, Crowns of Nubia.
Wambui Kamau
It's past the lunch rush, but long lines still form around various food stalls on a weekday afternoon. Food service workers fill orders quickly before the market closes at 5 p.m.
As people gather to catch up and mingle, Robin Holmes, who owns Deddle's Donuts, is busy.
"Since the ribbon cutting, we've definitely seen a lot of traffic," Holmes said. "More people know the market is open. In the mornings when we do coffee and stuff, but in the evening, we really get slammed."
Holmes represents the market's efforts to include 50% of women and minority-owned businesses. She started serving the mouthwatering treats from her '99 Camry six years ago, and is also juggling a Deddle's Mini Donuts food truck to keep up with demand.
"It's one of those things that's like 'be careful what you wish for. It's overwhelming, almost," she says while dusting flour from her clothes.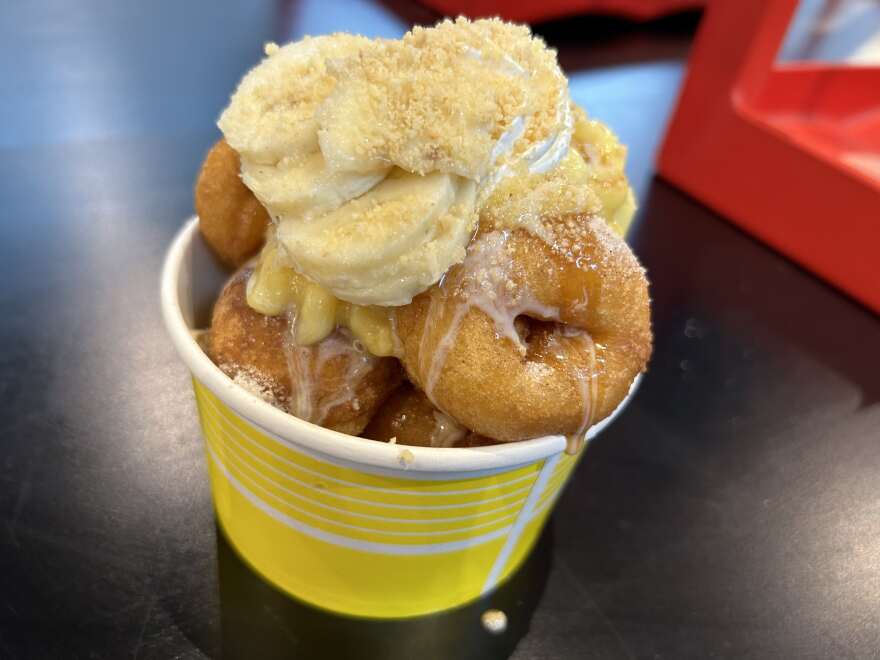 After closing the shop, she will fill a catering order for a corporate client.
As Holmes talks about the challenge of keeping up with demand, an anchor tenant has yet to move into the new building.
"Let me see," says Damye Hahn, the operator of Faidley's Seafood during a phone interview. " It was supposed to be last spring. And then it was supposed to be last summer. And then it was supposed to be this past fall. And then it was supposed to be January. And then it was supposed to be April. And now we've been told September.''
Hahn, is the fourth generation of the family-owned seafood spot, a Lexington Market staple.
She says effects of the pandemic, a changing construction timeline and other factors have contributed to less foot traffic.
"What we have seen not drop off is the draw of us as a tourist destination. That's what really keeps us going," Hahn said. "People come in that have traveled, and then they want to ship later. They'll say 'oh send me some of these crab cakes' when it's a birthday occasion or, or something like that."
Private security and police from different agencies patrol the 60,000-square-foot space that cost $45 million to remodel. One stand out feature is the staircase adorned with words from Martin Luther King Jr.'s "I have a Dream" speech. Outside, there is a walkable public plaza that will serve as an urban green space.
Despite these investments, some marketgoers, like Abdul Muhammad, are not impressed. "The old market was right," said Abdul Muhammad, a customer who wants to see more former businesses returning.
He stands at a table nearby nibbling on mini donuts topped with banana pudding. But, even the sweetness of his dessert isn't enough to hide the sour look on his face, as he compares this market to its former.
"They should have open[ed] the windows. They had it, at least a little bigger. This is small. This ain't nothing like the old market," griped Muhammad.
"They got a lot of stuff that's out like the meat department. My mother used to come down here to get her fresh meat. She can't do it now. All the stalls gone," he said.
But for Angel, who declined to give her last name because she also works at the market, it's in with the new and out with the old. As she stands in line waiting for Chinese carryout, there is one thing she'd like to see.
"More fresh food, healthy food, here for the people. If you look, most of us are overweight," she said. "It's the high blood pressure or something's going on with your body because this is all we have to eat. [I'm] too tired to cook after a whole day at work, a long day of work. So yeah, we need some fresh food."
To be clear, there is Garden Produce, a family-owned and operated stall, selling fresh fruits and smoothies. And Soon, BMore Vegan Joint will move in.
More than food at Lexington Market
While most stop by to fill their stomachs, marketgoers can also stop by to fill their minds.
Tia Hamilton is the owner of Urban Reads, a book cart that specializes in books by African American authors.
"Delmont Player. He's an incarcerated author. He's making more money with me than Amazon. I do a lot with his books, the 1619 project, Michelle Obama. It's a lot of different books here, my top 10% is here, so they all sell," she said.
Hamilton also owns and operates a brick and mortar store on Greenmount Avenue but says being at Lexington market is raising her profile.
"I have a literacy program called "Urban Reads Kids", that I'm teaching these babies how to read. I'm teaching them about finances and financial literacy. America is on the seventh and ninth grade reading level. Black Americans on third and fourth, who am I to have a bookstore not tackle that?" Hamilton said.
About 100 feet away is "Crowns of Nubia" a handcrafted jewelry cart. Owner, Shantel Faulkner, has been at the market for 17 years. She says she embraces the new Lexington Market and looks forward to work every day.
"I'm loving the energy; the level of security is immaculate and the architectural design is very elegant," Faulkner said.
While her crystals and ankh necklaces sell well, her repair services are bringing in higher profits, she said.
"Other people may inherit other family members' estates, and the jewelry may have been sitting and or needs to be cleaned or redesigned. And they bring it down. You know, like freshwater pearls that need to be restrung using silk wire," added Faulkner.
As the revamped market continues to take its shape, Damye Hahn, whose family has had generational ties, hopes the spirit of Lexington Market will remain.
"It has been a place that immigrants could come and start businesses," reflected Hahn. "They've immigrated from all over the world. I hope the long term history of all these different races and ethnicities continues to be emphasized."
There is room for two more permanent vendors and revolving kiosk opportunities at the market, according to a spokesperson for Lexington Market.