COVID-19 Leads To Bare Bones Budget In Baltimore County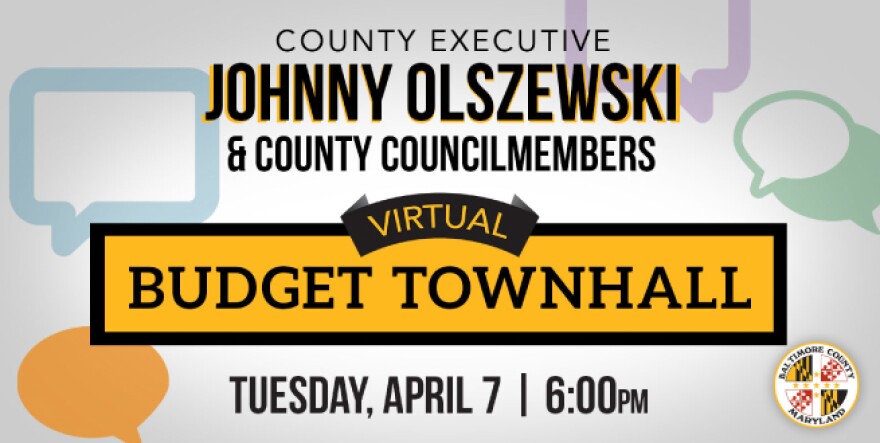 Dealing with the coronavirus pandemic is blowing a hole in the budgets of local governments nationwide, and Baltimore County is no exception.
In advance of a virtual town hall meeting Tuesday night on the budget, county officials said everything needs to be on the table as they look for ways to cut spending.
Here is the double whammy Baltimore County and other local governments are facing. For one thing, County Executive Johnny Olszewski said they are paying large and unexpected bills.
"In our response trying to prioritize the safety and wellbeing first and foremost of all of our front-line workers, but also all of our residents," Olszewski said.
The county is paying for things like protective gear, cleaning equipment, and $100 more a week to first responders and other county employees who are on the COVID-19 front lines.
At the same time, Olszewski said at a news conference last week that the amount of money the county is taking in is declining significantly.
"We've seen the stock market crater," Olszewski said. "We've seen the implications of people losing their jobs and unemployment spiking. That will have an impact on government finances."
For example, a quarter of the county's money comes from its income tax. But 13,000 county residents have filed for unemployment, according to Baltimore County Economic Development Director Will Anderson. Also, a survey conducted by his office finds 96 percent of county businesses are affected by much of the economy being shut down to try to control the spread of COVID-19.
County Councilman Tom Quirk, a Democrat and chairman of the council's Spending Affordability Committee, said one way they will not try to make up for the loss of revenue is with a tax increase. The county last year raised taxes, including the income tax, for the first time in more than a generation. Quirk said they will not do that again this year.
"Nobody would entertain that for a second," Quirk said. "So we have to figure out what we can cut and what we can delay and what we can slow down."
Olszewski submits his budget to the county council next week. Quirk said it will need to be bare bones. Republican County Councilman David Marks called it retrenchment.
"It's probably going to come from seeing where we can delay large construction projects maybe a year or two," Marks said. "But it's not going to be easy, particularly school projects. People have been waiting for these projects for years."
Marks said the county has not faced a recession of this magnitude since the early 90s. He said the administration and the council need to be thinking now about how to protect the jobs of public employees like teachers, police officers and firefighters.
"The 1990 and 1992 recession in Baltimore County was very difficult and resulted in layoffs and furloughs," Marks said. "And we need to engage our unions now to make sure that we can avoid really drastic actions."
Last week, Baltimore City officials said they expected to have a budget deficit of more than $42 million when the fiscal year ends June 30.
Both Marks and Quirk expect nothing like that for Baltimore County for the current fiscal year. It's the next fiscal year, the one that begins July 1, that has them worried.
Quirk said there are a lot of unknowns, including future expenses and how much federal aid could come Baltimore County's way.
"Nothing gets better until we get this health crisis mitigated and then eventually defeated," Quirk said. "Which I think will happen, we just need to buy ourselves time while we wait for that."
Tuesday night at 6, Olszewski will host a virtual Town Hall to give residents a chance to get briefed on the budget picture and offer their ideas. Marks is taking part and he said he hopes people will tell officials what they believe absolutely needs to be funded. He said this is not the year for a wish list.
You can join Baltimore County virtual town hall meeting Tuesday night at 6 by clicking the link baltimorecountymd.gov/townhall