In Debate, Hogan and Jealous Describe Different Marylands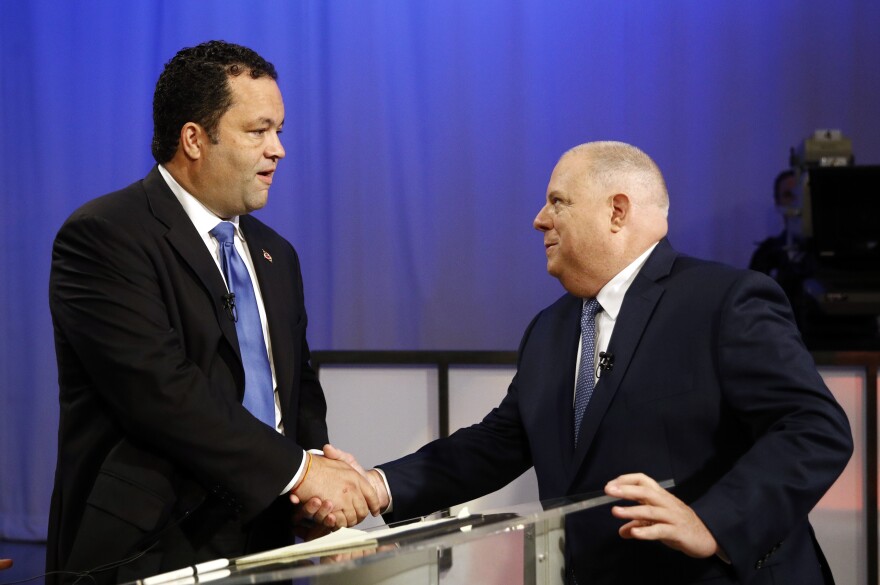 Republican Gov. Larry Hogan and Democrat Ben Jealous met Monday for their one and only debate of the election. The two offered distinct visions not only for what Maryland should look like in four years, but also for what life is like now.
Jealous's plan for Maryland includes Medicare for all, higher pay for teachers, debt-free college and increased access to public transit.
"Now, folks will tell you that the things I want to do are hard," he said. "And they're right. Nothing worth doing is easy."
Hogan wants to build on his four years in office — four years that he said saw tax and toll reductions, economic growth and — "record funding in education, record funding in transportation," Hogan said. "We've made tremendous progress, but there's still a lot more hard work to be done."
But both men seemed to be starting with different versions of reality.
On the economy, for example, Jealous said Maryland has the lowest job and income growth in the region.
"If we had the job growth of Virginia, we'd have 40,000 more jobs right now," he said, addressing Hogan. "Here's the punchline, sir. Virginia's job growth is lower than the national average."
Hogan offered a different take.
"We went from losing 100,000 jobs to gaining 100,000 jobs. We had some of the fastest job growth in America. We went from last place in the mid-Atlantic region to first place," he said.
The candidates disagreed on whether there's adequate access to transit, especially in Baltimore.
"I have invested more in transit than any other governor in the history of the state," Hogan said. "We have $15 billion in transportation improvements. We put $3 billion into Baltimore City. We revamped the entire transit system in the city where we just were recognized and won a national award for the best revamp of a transit system."
But Jealous highlighted proposed toll lanes on the Baltimore-Washington Parkway as an example of one of Hogan's transportation priorities. He said extending transit service isn't Hogan's goal.
"You get on the bus in Baltimore City — I don't know the last time you were there — and you ask folks, and you say, you know, 'Five years ago, how many buses did you take?' 'One.' 'How many do you take now?' 'Two.' 'How many did you take then?' 'Two.' 'How many do you take now?' 'Four,'" Jealous said. "And their time with their children gets eaten up because it's doubled their time."
There was similar disagreement on the current state of Maryland's schools.
"Over the last four years, our schools have fallen in the national rankings — every year Gov. Hogan's been in office. They've fallen from first to sixth," Jealous said.
But Hogan said that's not quite accurate. In 2015, the state began including more students' scores in the calculations that determine the national rankings, including more students with disabilities and English language learners, who typically score lower on standardized tests.
"When I first became governor, we adjusted the real numbers down to six," Hogan said. "We didn't bring the schools down from number one to number six. They never were number one. We were just the first ones to be honest about it."
He touted record funding for classrooms and for school construction and a reduction in average class sizes.
Mileah Kromer, a political science professor at Goucher College and director of the Goucher Poll, said when candidates offer such starkly different versions of reality, voters are left to decide who they trust more — whose vision matches their own experiences.
"It's incumbent upon both campaigns, I think, to be able to get the voters to trust their version, right?" she said. "A lot of times it is how you slice and dice the numbers, it's how you consider the numbers. And you can paint different versions of a reality."
She said the candidates' distinct visions for Maryland's future will help voters cement their choice for who they want to be the state's governor for the next four years.