Getting the Biggest Bang for your Buck at Local Grocery Stores
The Salvation Army opened its first-ever non-profit grocery store in East Baltimore this week, aiming to provide affordable, healthy food options, especially for low income folks using food stamps. So, WYPR went shopping to see how the prices compared to other, nearby stores.
We started with a list of 14 essential grocery store items. This includes protein like turkey and tuna, some milk, some essentials like olive oil and vinegar, and of course, some eggs, bread, and potatoes. The shopping list also includes an essential for any business family, Hamburger Helper. The items reflect breakfast and dinner for a week.
Here are a few ground rules:
1.) I have to buy the lowest priced item at each store. I was not able to control for quality of the products.
2.)I would try to buy the same amount of each produce item at every store.
3.) The totals are quoted before taxes.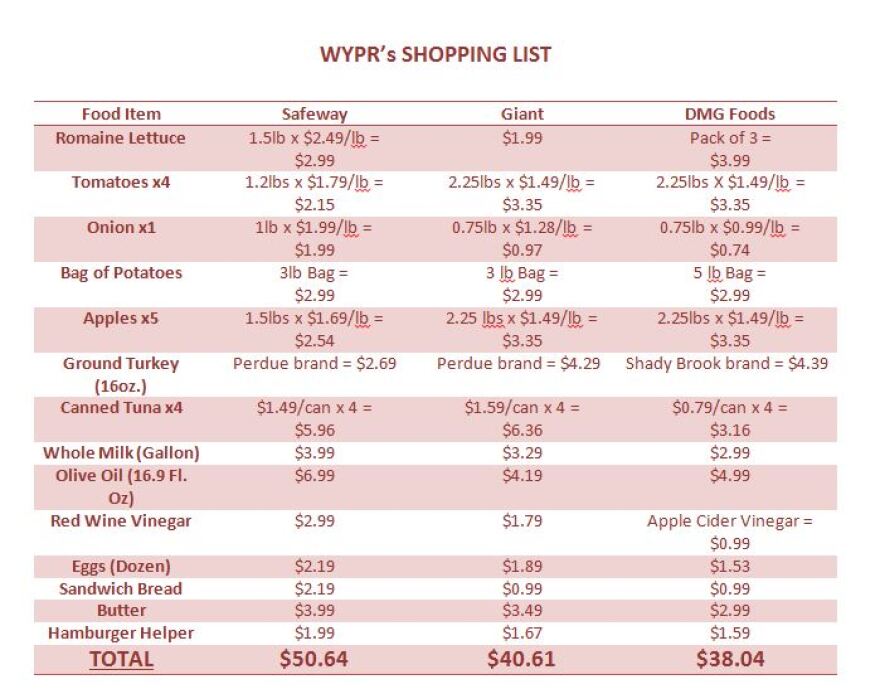 At Safeway the total was $50.64.
Next, we hit up Giant about a mile and a half away or a 23 minute walk. For several items like lettuce, vinegar, and hamburger helper, we paid anywhere from 30 cents to a dollar less. The total came out to be $40.61, $10 less than Safeway.
The final stop was the newly opened DMG Foods, a non-profit grocery store run by the Salvation Army.
Kiara Barnes and her 4-year-old son Randal from the Barclay neighborhood push their cart out of the store. Barnes says she has been anticipating the opening of the store for months.
"They have just about every little thing I would need," says Barnes. "The prices are great as well."
Before DMG Foods opened, Barnes says that they would have to go to Giant or across town to the Shoppers in the Mondawmin Mall.
"This might be my main store. I might get bigger items or certain items that I might not find here from Giant," says Barnes. "But this is right down the street it is easy I can stop right after my son gets off from school. And get whatever I may need to fill my cabinet."
Inside the 7000 square foot store, you are greeted by a friendly face and stacks of juicy apples, fresh-looking asparagus, and other produce. There were some compromises that had to be made. Can't find single head of lettuce, but there is a three-pack of romaine for about four dollars. They didn't have a three pound bag of potatoes but they did have a five pound bag for the same price as the three pound bag at Giant and Safeway. And they didn't have red wine vinegar, but they did have white or apple cider vinegar.
We asked one shopper, John Davis, how felt about the possibility of having to make some compromises.
"Actually I don't feel too bad about it because I think the recipe would do good with both," says Davis. "I can't see me going up the street for the name."
Another neighborhood shopper, Sean Brooks, came back to the store to pick up more chicken for his grandmother. Brooks says he is excited about more food options in the neighborhood.
"Yeah. I think now people got more choices," says Brooks. "So If they see this right next to the MacDonald's a lot of people instead of going to get those Happy Meals and those nuggets, they be coming over here to grab chicken."
In the end, the total at DMG Foods came out to $38.04, about two dollars cheaper than Giant and $12 cheaper than Safeway.