"As They Grow" is an occasional WYPR News series on efforts to lower the juvenile crime rate and regain control of Maryland schools.
U-TURNS: Giving west Baltimore youth more options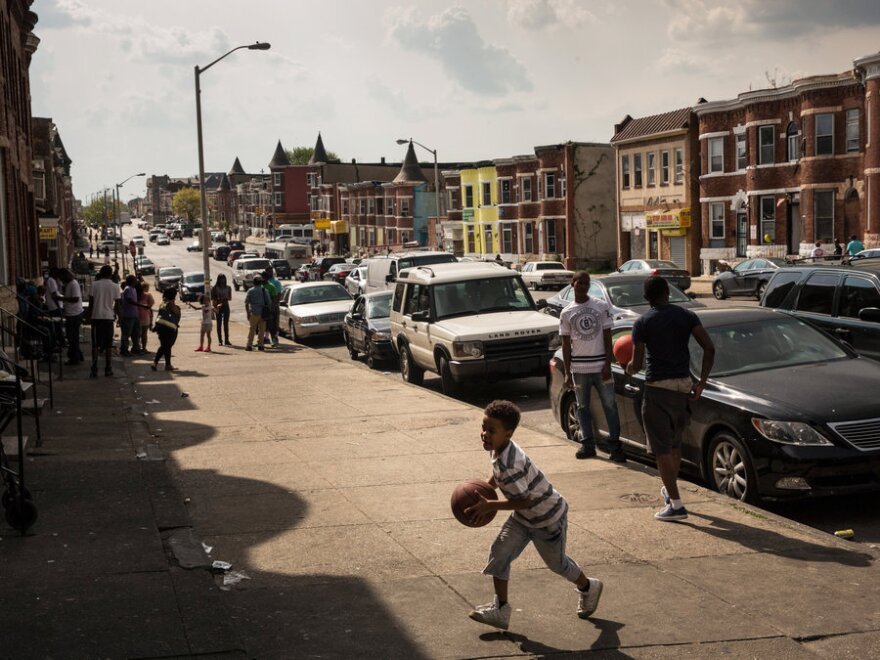 October first marked a milestone for Akai Alston. It was the first time the 25-year-old had been home for a whole year since he was 14. The rest of the time he'd been in and out of custody.
"You know me being a follower," says Alston. "Giving into peer pressure older guys manipulating me to do things."
Alston says he was caught up in the wrong place at the wrong time.
"And I wind up catching a very violent charge that I got 20 years for," says Alston.
But he only did five of those years in adult prison. Since he was released this time, he's been working three jobs one of them as an outreach worker for U-TURNS, a program offered to young people from Sandtown-Winchester providing—among other things—individual and group therapy session, job search assistance, and life skills. The program just started in February of this year, and is a partnership between Behavioral Health System Baltimore, University of Maryland, Penn North Kids Safe Zone, and Catholic Charities Baltimore.
"It's hard for these young people and then need examples of what it takes to persevere through this," says Alston.
Alston and his co-worker, Kelvin Parker, walk through Sandtown every day, talking with youth on the streets about their choices in life.
"These kids go through a lot," says Alston. "First and foremost, you got to understand the environment we in, this is Sandtown-Wincester, this is probably one of the worst neighborhoods in Baltimore City, period."
Parker, 34, who grew up in nearby Gilmor Homes, concedes to having made some bad choices. He's another one who's been in and out of custody since he was 14.
He says he wants to show these kids something else.
"If we can give them other options like they actually have a future because as of right now those that choose to remain in the condition, their future is only one of two things," says Parker. "Either death or prison. Early death or prison."
Alston and Parker start a conversation with the young people they come across.
"Being genuine, being who we are," saus Parker. "Transparent," adds Alston.
"Like there is no tactic, we don't go out with a script. It is just a basic conversation," says Parker.
"Giving them a choice other than the streets and the corners," says Alston. "You know we got young men enrolling in our program that never got jobs before."
Alston helped a few of the 18-year-old young men find jobs using the computers at the Penn North Kids Safe Zone.
"We are from the same community kids and watch me on these corners," says Alston. "I'm learning as I go you know I'm coping with my traumas as well.
Doctor Charlotte Bright, who specializes in juvenile justice at the University of Maryland School of Social Work, says as kids get older and more mature they make better decisions. Neurologically this is called executive functioning.
"The risk reward ratio changes as we age," says Bright. "And what I mean by that is that it becomes less fun and less exciting to participate in risky behavior."
One crime one the rise among Baltimore adolescents: car-jacking. And while Bright says adolescents should be held responsible for their actions, she's not surprised.
"It is so easy to see how an adolescent might make a split second decision to think what would be really fun would be to take this car for a ride," says Bright.
And that same person 10 years later might say…

"Wow that's an exciting looking car," says Bright. "And then I think through what would happen if I did that and realize that the outcome is likely to be very negative."
Alston says he began to change his ways of making decisions when he became a father. He says he wants to impart some of what he learned to the youth he works with.
"You know so and me being just a little bit older I'm able to give what I'm learning through my struggles to them," says Alston.
And maybe help them avoid the juvenile system all together.